Here at Artcentric we see a variety of different projects come in through the gallery doors. It's truly what makes the job fun! We love it when we have the freedom to design something special and unique to the spirit of the piece. The best examples of this creative work is concert posters. Concert posters are always fun to design and can be taken in so many different directions! Concert posters perfectly commemorate the music experience! The artwork is so unique to the artist, band, and venue that an experienced framer can really add a lot of worthwhile expertise. We recently had a concert poster come in that exemplifies what an excellent design can add to an awesome concert poster. Here is what the poster was and what we did for it!
First lets look at an image of the poster itself.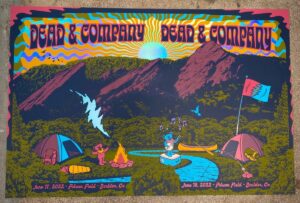 What we really liked about it was the foil paper used on the sunset, and the black and red psychedelic border along the edge, this black and red combination is also used in the lettering, making it really stand out over the foil sunset . So we tried to tie the frame and matting with this in mind. A great design on any artwork is meant to compliment the piece NOT OVERPOWER IT!  We used gold, black and red matting to play off the elements that existed within the poster. Here is a photo of the mat combination. I think it gets you a closer look at how we wanted to use the mat color combination. We also wanted to emphasize the psychedelic red border along the edge of the piece so we actually cut this pattern into the mat with our CMC mat cutter. A CMC mat cutter lets the designer move away from the traditional square and rectangle cuts in matts and get more creative in designing.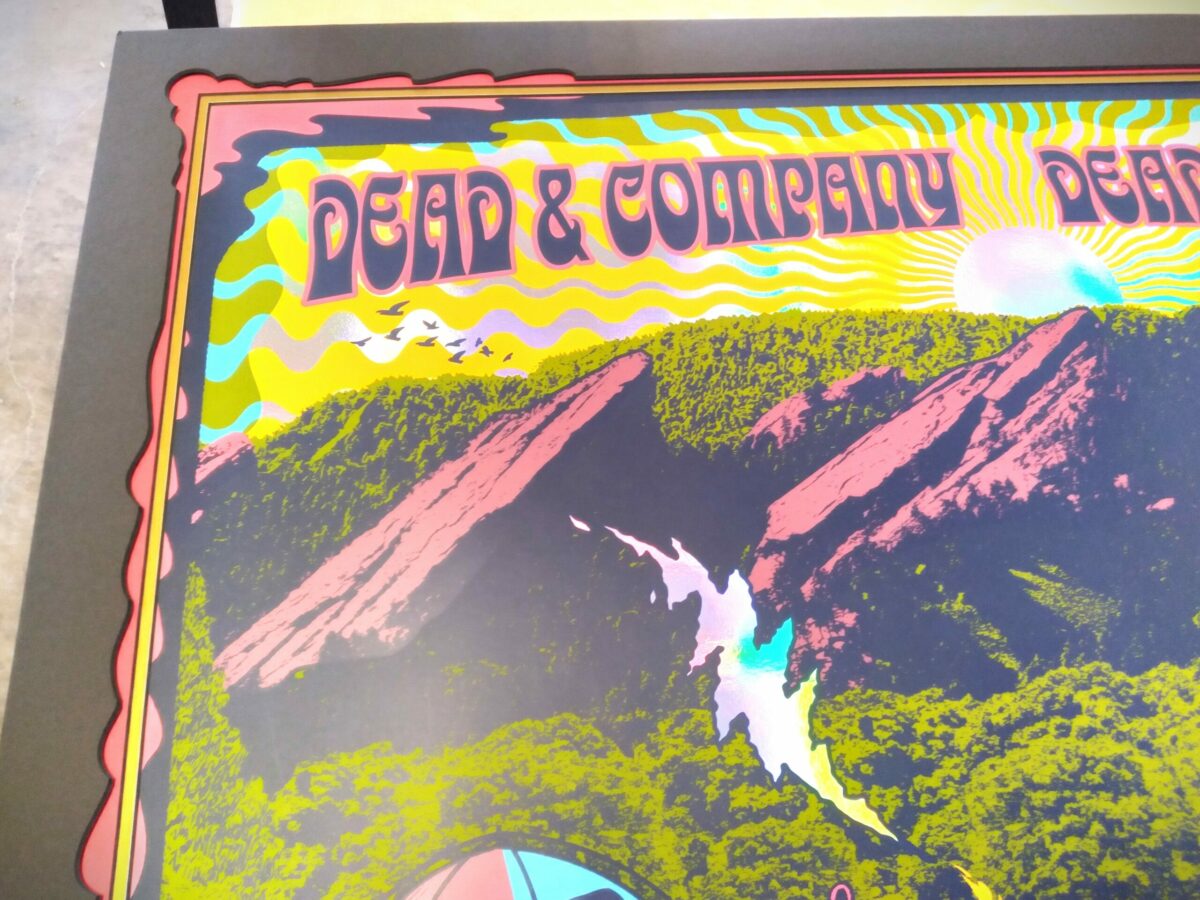 We than added a contemporary yet distressed gold frame. The customer absolutely loved it!  It's always good to hear that we exceeded expectations. If you notice the edges appear to be dripping along the top and down the sides, and the gold frame works real well with the foil paper sunset. Making this concert poster next level art. You will not receive this attention to detail at the big box stores! There is truly a difference when you design with an expert. If you are looking to make your concert poster something special please contact us through our request a quote option (or call/ email us directly). We'd love to help! To see some examples of our concert poster work go to our framing page we have examples posted, or click the link provided      Link:  https://www.artcentric.design/framing/
As Always PLC.
Russell Wilbar owner of Artcentric.
Here is the complete Design frame and all!