Artcentric is dedicated to providing a creative outlet to our community.
…"But I'm not an Artist."…"I can't draw"…. "I'm just not creative."… are phrases we hope to eliminate from the English language (or any other language, really)!
We believe that creativity is key to mental and emotional health and offer classes at all skill levels. Artcentric is not just the name on the sign! We would love to help you get in touch with your creative side and meet other creatives in the community.
If you are interested in any of the classes listed please contact us via email: plc@artcentric.design or give us a call 303-325-2640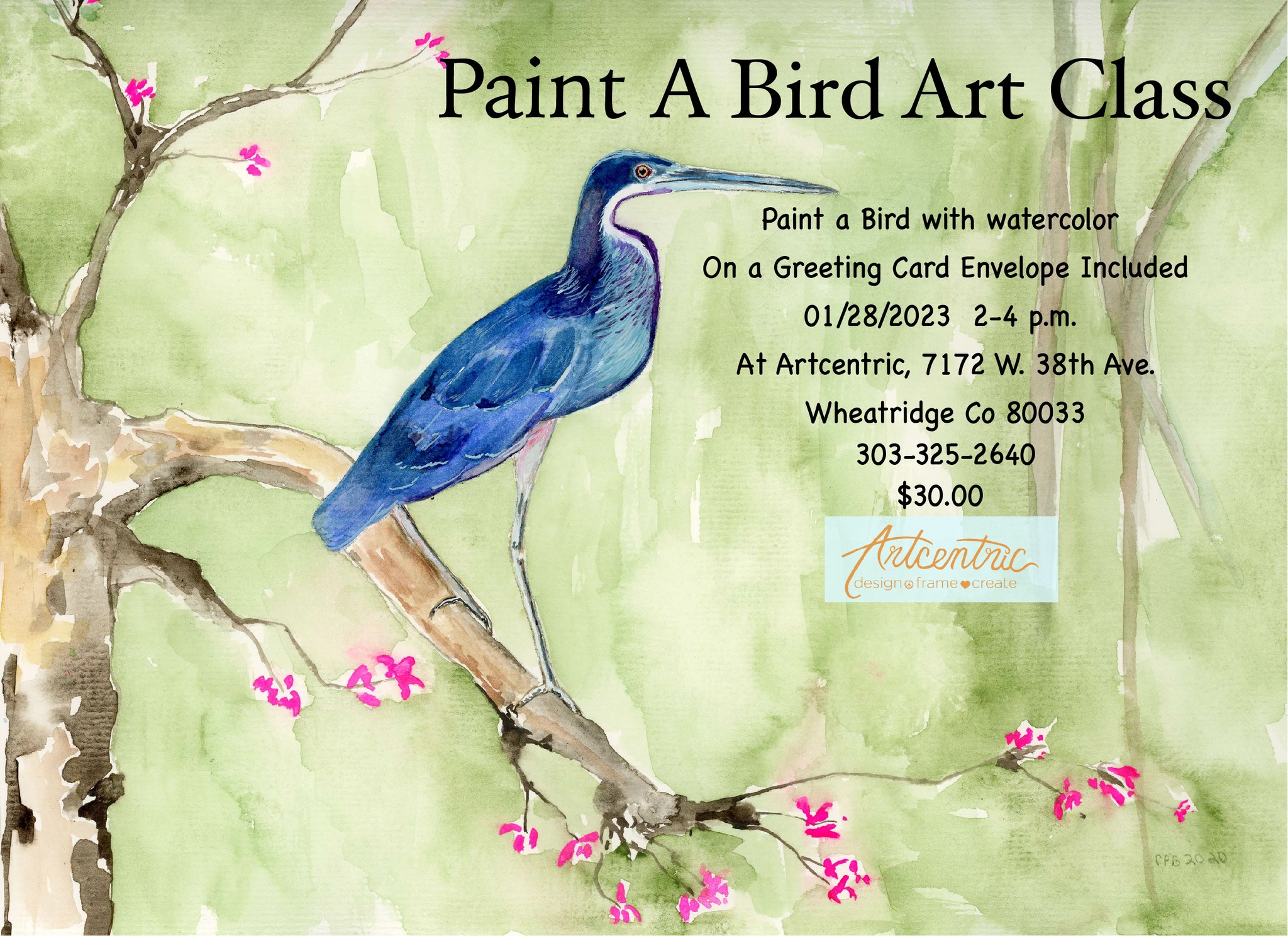 Watercolor bird greeting card project: January28th
2-4pm $30 per person all materials included
Our featured artist for January, Christopher Bennet, will be demonstrating his techniques in the medium of watercolor as he walks you through his process in painting a bird on a greeting card. A great opportunity for anyone who would like to explore the medium of watercolor, bird lovers, as well as creative learners of all ages and skill levels! Come meet the artist and join us in a fun afternoon of creating with friends, and go home with a hand painted greeting card you did yourself! As always we will provide all the tools, medium, and paint just bring your imagination.
Upcoming Art Shows:

52 bird painting project
by Christopher Bennett
January 6th – February 3rd
Christopher Bennett is an artist and bird watching enthusiast in Denver. Like most artists he had a vision for a grand project. Christopher wanted to give people a break from the chaotic world we live in, and reflect on the beauty of the natural world. His goal was to paint a watercolor of a different bird every week for a year. Along his journey he was brought into contact with art and bird enthusiasts from around the world. Soon he was taking suggestions from followers of what bird to paint next and what background to place them in. This gave his paintings a new and deeper sense of spontaneity. The paintings have unique compositions and color that make them work as individual pieces. But to see a group of these paintings together really creates the theme of one artists journey. It is not uncommon that an art show is a journey of one persons expressive thoughts throughout the year. But it is rare that the viewer can actually follow the artist's journey from week to week, and see the progress of where Christopher was at week 4 as compared to week 28. At Artcentric we thought that it was integral to the show to Display the work in the chronological order it was made. Allowing you to walk from week 1 to week 52. We encourage you to come to our show January 6, 2023 (1st Friday) and see this truly one of a kind show.
We would love to help you with your project! Looking for a quote? We would love to provide you with a price once we have a few more details pertaining to your specific project.